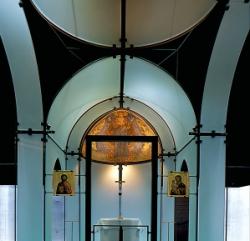 When the Byzantine Fresco Chapel at the Menil Collection in Houston opened in 1997, it displayed a group of 13th-century Greek Orthodox frescoes. But after restoration of the works, which the Menil had rescued from looters for the Church of Cyprus, the museum returned the frescoes to Cyprus as a donation when the agreed loan expired in 2012.
So what to do with that chapel (at right), which has now been deconsecrated? The Menil has commissioned a year-long installation from the team of Janet Cardiff and George Bures Miller. Cardiff's
Forty Part Motet
has been a hit wherever it is installed, but especially when in 2013 it was place in the Cloisters's 12th-century Spanish chapel, as the first work of contemporary art ever to be shown at the Met's medieval art branch.
More