November 2, 2012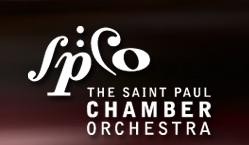 St. Paul Chamber Orchestra President Dobson West has taken the musicians at their word and canceled concerts for the rest of the year. The players have "unanimously" rejected management's latest contract proposal, according to the
Star Tribune
.
Dobson said the action was necessary for the sake of their audiences and guest artists' schedules. Musicians have said repeatedly that they'd prefer to "play and talk" under the old contract, but Dobson says the orchestra simply cannot afford to do so. Players have been locked out and without compensation since Oct. 21. Their contract expired June 30.
Musicians are said to be working on a new proposal in preparation for the next negotiating session, scheduled for next Thursday.
Meanwhile, the Minnesota Orchestra musicians have been locked out since Oct. 1 and concerts cancelled through Nov. 25.